Welcome to Gite Le Tremblay,
Gite Le Tremblay is a new gite opened in 2016. It lies 5 minutes outside the beautiful small village of Breil; which is in the township of Noyant, part of the district of Main-et-Loire.
Gite Le Tremblay is a two bedroom cottage and enjoys a peaceful, tranquil and secluded location but with French neighbours nearby. The road from the village running past Gite Le Tremblay is popular for the friendly locals to walk or cycle and quite often they will stop in to say 'Bonjour' and enjoy a café. On many occasions the local hunt will ride by decked out in their finery.
Our gîte is a quaint cottage which has been renovated by French Artisans to a high quality and standard and is tastefully decorated in a contemporary fashion complemented with high quality furniture and fittings. We have sought to outfit the gite to meet the needs of our guests so that it provides a home away from home.
We live on site but the gite has it's own double private parking space and peaceful, tranquil garden where you will find a Bistro set, a dinning table and chairs, a summer seat, gas BBQ and sun loungers for relaxing and enjoying the sun throughout the day.
Our above ground plunge pool and pool area is available to use by our guests.
With thoughtful planting of flowers and shrubs the gardens provide a refreshing and tranquil environment to read, write or just relax and enjoy the soaring buzzards that nest nearby. We even have a local pheasant and his harem of hens who regularly visit the garden.
A wild flower garden has been planted which will attract the many species of butterfly and wild bees who frequent this beautiful part of France.
For the more energetic a small football/sports area is available for family fun.
So come and join us in this charming and historical region of sunny France. Awake and enjoy breakfast in the morning sun at the bistro table in the gite's private garden. Chill with a cup of coffee while listening to the trickling of the petit water feature or escape from the noonday sun under the protective green umbrella of the walnut tree in the Walnut Nook.
In the evenings, wind down the day with a glass of local wine in the lavender enclosed Zen area. Perhaps even take part in a game of boules in the adjacent Pétanque square and let loose your competitive spirit as the evening sun settles over the adjoining orchards.
We look forward to welcoming you to join us in this beautiful region.
Derrick & Iris Mathews
Booking enquires to holiday@giteletremblay.com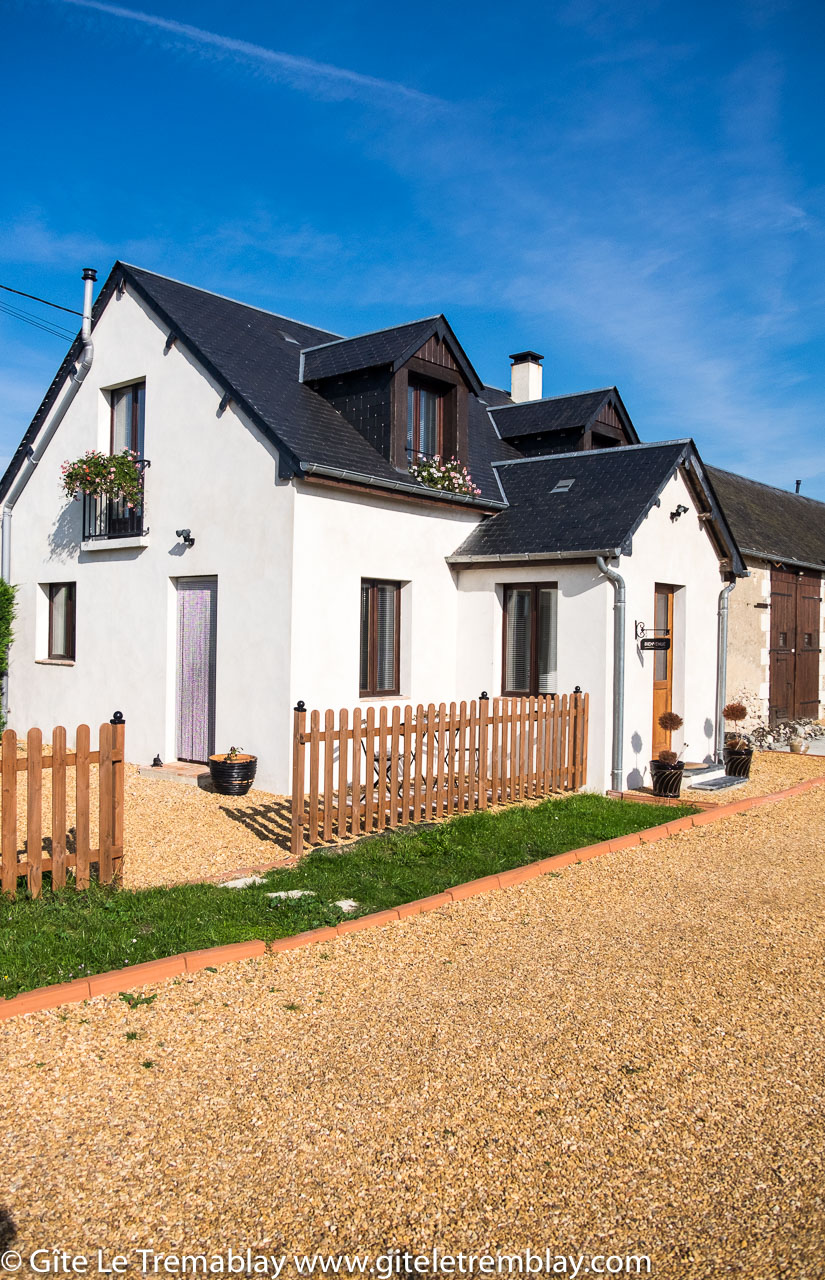 On Arrival
After a long day travelling there's no need to think about having to rush out to the shops as we offer not only a complimentary Welcome Pack stocked with the essential goodies but also you will find in the fridge a light meal so that you may relax and enjoy your first evening with us.
BREIL
Breil has it's own Chateau with beautiful gardens which are open to the public. The Chateau hosts an annual 'Fête de La Chasse' (Hunting Fair/Festival of French country sports) on 15th August. This event attracts over 20,000 plus visitors from all over France to our small village. www.fetelachasse.pagesperso-orange.fr
The local Boulangerie/Patisserie owner is renowned as one of the best bakers in the area with people travelling many kilometres from the surrounding towns and villages for his breads and cakes. Spend a moment outside his shop to savour the rich aroma of freshly baked bread before entering to experience the taste. Walk the short distance to the village or use one of the complimentary bicycles provided during your stay. We also have a bike chariot for the kids.
THE REGION
Venturing a little further you can find within an hour's drive, the historic towns and cities of Saumur, Tours, Anger, Chinom and Le Mans. In the region you will find Chateaux, Zoo's, Museums, Sports, Water Activity Parks, Cycle Routes and Trails, Canoeing, Wine Caves and Vineyards from local and famous producers. You can enjoy the range of architecture, from the Troglodyte Caves to the many beautiful Chateau and historic buildings that you will find in the cities, towns and villages or take a boat trip on The Loire, France's longest river which gives the region it's name and along which the Roman's established the major settlements that have now become its famous historical towns and cities.
With Gite Le Tremblay as your base you can take a Hot Air Balloon ride over Saumur, go Karting in Le Mans, paddle down the Loire, stroll around a market or just relax in a café and watch the world go by.
There really is something for everyone.