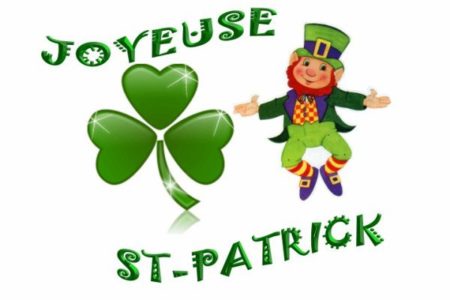 An Irish Saying -
'There's two kind of people in the World,' The Irish and those who wish they were Irish...
Today at Gite Le Tremblay we are celebrating St. Patricks Day with a few 'Smooth Black Velvets' made with Guinness and French Champagne and maybe a Baileys, Bush or Jameson's or two while watching the Ireland/England rugby game. The Ireland Rugby flag will be flying high on our flag pole.
We won't be eating corned beef and cabbage but there certainly will be a potato dish French style on the menu, with Irish coffee, Guinness and Jameson brownies for dessert.
Did you know that wearing green on St. Patrick's Day makes you invisible from the Leprechauns! If you don't wear green they sneak up and pinch you, don't take the chance or next year you will have to wear a T-shirt saying 'I've been pinched by a Leprechaun".
Happy St. Patrick's Day
from Gite Le Tremblay, Maine et Loire, France.
'MAY YOUR DAY BE TOUCHED BY A BIT OF IRISH LUCK, BRIGHTENED BY A SONG IN YOUR HEART, AND WARMED BY THE SMILES OF THE PEOPLE YOU LOVE'